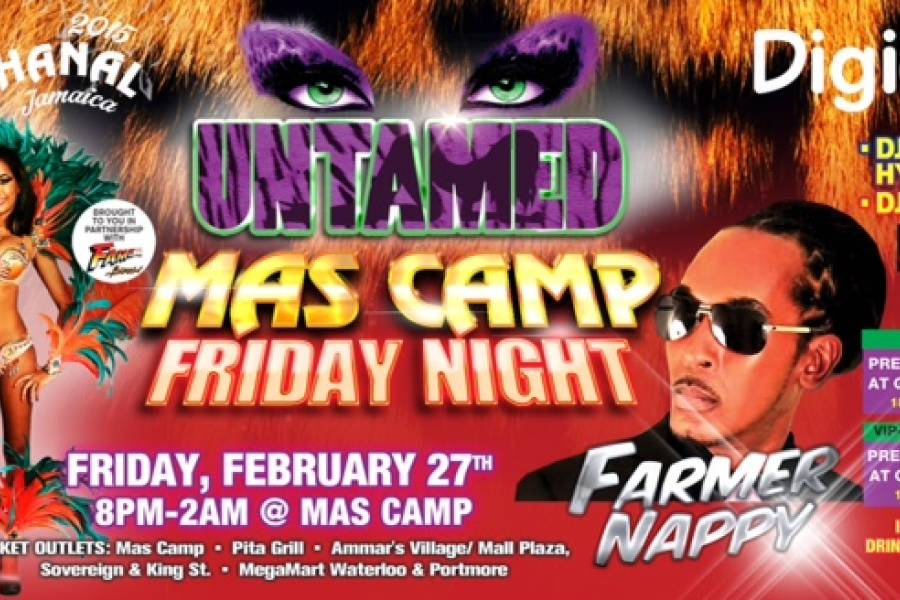 Friday, February 27, 2015 - 22:00
---
Farmer Nappy performs alonside selectors Barrie Hype and Richie D at the second incarnation of Bacchanal Fridays - Untamed 2015.
Carnival drums roll as Bacchanal season builds each Friday starting the third week in February at Mas Camp, party central for fans gearing up to "play mas."
Carnival organizers in Jamaica have extended what for other islands lasts no more than a week, over several months, from a preview the first Friday in January through to Road March when excitement peaks the Sunday after Easter.
A mid-summer refresher is staged in mid-July by Bacchanal with a few lingering soca-themed events into December. With the start of Bacchanal Fridays, the year's costumes are unveiled, the new songs from the trailing 12 months soca catalogue are baptized on the masses and revelers start the wining. Jamaica's favorite soca DJs take turns at the turntables with visiting selectors for the twin islands throughout the season, and as Easter approaches top soca artists perform to bumping, frolicking and crowds.
Bacchanal Jamaica is led by three Mas bands in the Trinidadian tradition--Oakridge, Revelers, and Raiders--which have promoted parties in the country since launching carnival festivities in 1989.